Google My Business announced a number of updates to the platform recently to help small businesses do more with their Google Maps and local listing on Google. In short you can personalize your business profile by adding a cover photo, logo, and claiming a short name as well as add welcome offers and promotions.
The short name was announced a few months ago but only Google Local Guides had access to it then. Now most businesses, not all, can add a short name.
When you share your short name, customers can enter the short name URL in the browser's address bar, like "g.page/[yourcustomname]," to go directly to your Business Profile.
Try it out by going to g.page/unboundnz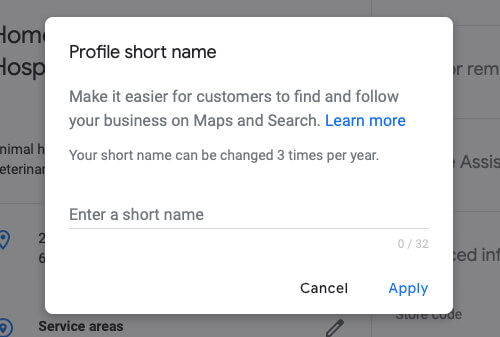 If you cannot claim your short name, read the help document to see why.
To access all of this, you just login to your Google My Business account and modify your profile.
Google also announced these features:
Cover photos: Businesses can easily set their preferred profile cover photo, putting their best foot forward.
More prominent logos: Businesses have an additional branding opportunity with the logo feature. Those that have completed their core information (phone number, hours, etc) will have their logo displayed at the top right-hand side of their profile.
Photo displays: Photos uploaded by a business will appear instantly and prominently on a new dynamic module on the Profile. Photo captions, which are coming, will let businesses tell the stories behind the pictures.
Offline materials: We're also launching a website where businesses can easily download and order custom assets for their place–like stickers–to help promote bookings on the profile, adding reviews and customer following.
If you haven't claimed your short name yet, go to your Google My Business now so you avoiding missing out on the best name for your business.
If you need help with any of these new features please feel free to give us a call on 0800 001 925 and we can help you out.